The Family Care and IRIS (Include, Respect, I Self-Direct) programs provide long-term care services to adults with intellectual and physical disabilities and to elderly Wisconsin residents, allowing them to remain in their homes. These programs foster independence and improve quality of life for these individuals while supporting their desire to self-direct their long-term care services.
Through a contract with the Department of Health Services (DHS), Disability Rights Wisconsin serves as an independent ombudsman for people who are enrolled or in the process of enrolling in one of these programs. 'Ombudsman' is a Swedish word for someone who is an advocate.
For more information on Family Care and IRIS programs, see our resource page on the topic.
How We Help
The Family Care and IRIS Ombudsman services are available to people who are experiencing problems with these long-term care programs. Ombudsman services are free and confidential and provide the following support:
Answer questions or provide information on consumer rights
Seek ways to resolve issues through informal strategies (negotiation with MCOs or IRIS agencies; technical assistance to support self-advocacy)
Assist in filing complaints for formal appeals and grievances
Provide technical assistance or representation for administrative hearings
Work collaboratively with the Wisconsin Department of Health Services (DHS) on due process problems or on issues that impact enrollees
Provide education at community forums or presentations about the Ombudsman program and consumer rights in Family Care and IRIS (for outreach requests, contact us at 608-267-0214)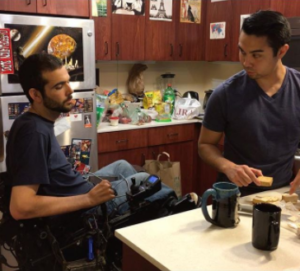 Eligibility
The Family Care and IRIS Ombudsman Program (FCIOP) at Disability Rights Wisconsin can help you if you are:
age 18-59
currently enrolled in Family Care, Family Care Partnership, or IRIS OR
eligible for Family Care, Family Care Partnership, and/or IRIS but are not yet enrolled (for example, you might be having an issue with eligibility)
If you are age 60 or older, you can contact the Board on Aging and Long Term Care Ombudsman for help.
Our Team
Our FCIOP team is made up of highly knowledgeable advocates with a long history of navigating through the Family Care and IRIS systems.
Contact us
To access the ombudsman program, just call our toll-free number (1-800-928 8778) and mention Family Care or IRIS.
Your call will be forwarded to an Intake Specialist who will ask you for some basic information about the issue(s) you want to address, which program you are in, where you live , etc. If the Intake Specialist is not available when you contact us, they will get back to you within one or two business days.
Toll Free Number: 1-800-928-8778